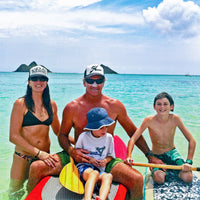 My Story...
I'm an Australian, born and bred on the beautiful Sunshine Coast in Queensland, Australia. I grew up living on the Maroochy River and enjoyed the simplicity and good old days on the Coast during the 70's and 80's. I married an amazing waterman and I have two ocean loving sons. Our long time love of Hawaii and decades of visiting the islands to race outrigger canoes and standup paddle boards led us to move there for 4 years from 2012.
While living on Oahu, I learnt the art of handcrafting jewellery and found inspiration in the beauty of Hawaii, its pristine beaches, warm ocean and relaxed island lifestyle. Aussie Wahine is a very Hawaiian style of jewellery.
Fast forward to now, where I continue to create in my beautiful coastal home studio at Buddina Beach on the Sunshine Coast in Queensland Australia. While working I can see the water, hear the ocean and smell the fresh salt air. I named my business Aussie Wahine to form the link between myself, as the "Aussie" and Hawaii where "Wahine" means woman.
I hope you enjoy viewing my collection and thanks for stopping by. May you always have a shell in your pocket and sand between your toes!
Sue...The Aussie Wahine
COOL STUFF ABOUT AUSSIE WAHINE JEWELLERY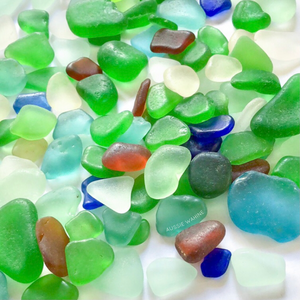 WHAT IS SEA GLASS?
Every piece of Sea Glass is unique in size and colour and has a fascinating story behind its evolvement. These beautiful ocean gems take many years to form underwater, becoming smooth and rounded due to constant tumbling in the sand as they approach the shore. 
Sea glass begins as normal shards of broken glass, broken bottles, broken tableware, or even shipwrecks that are then persistently tumbled until the sharp edges are smoothed and rounded.
Sea glass takes 20 to 40 years, and sometimes as much as 100 years, to acquire its characteristic texture and shape.
I use genuine sea glass in many of my designs, both from preferred suppliers and from the sea glass I have personally found on beaches around the world.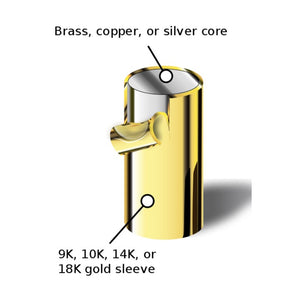 UNDERSTANDING THE METALS I USE
Gold-filled is made by heat and pressure bonding a thin layer of 14K solid gold to a base metal core such a brass.
The "14/20" notation refers to the ratio of karat gold to brass core by weight and indicates the karat value of the gold.
"14/20" gold-filled material is made with 14-karat gold and the gold represents 1/20th (or 5%) of the total weight of the material. The karat gold is tarnish resistant, strong, durable and long lasting.
It is not gold plated because gold filled has an actual layer of pure karat gold over the base metal. Gold-fill will always keep it's colour and luster. I can guarantee this as I've worn my beach bangles for over 10 years now and they still look as though I made them yesterday!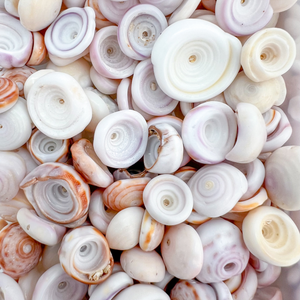 THE HAWAIIAN PUKA SHELL
Puka jewellery first became popular in Hawaii. Puka shells are naturally occurring bead-like objects found on the beaches of Hawaii. These are beach worn pieces of broken cone shells.
"Puka" is the Hawaiian word for "hole" and refers to the naturally occurring hole in the middle of these rounded shell fragments.
Finding a Puka shell is seen as good luck, with the more symmetrical the shell, the better your luck would be.
In Hawaii, the wearing of puka shells was traditionally thought to ensure a peaceful and safe voyage for sailors, so puka shell necklaces were especially worn by those who had to travel at sea.
I use puka shells in some of my designs, both from preferred suppliers and from the pukas I have personally found on the beaches of Hawaii.
Testimonials
"Thank you again for your awesome customer service and truly beautiful necklaces. I still can't believe you made them to order and achieved such a quick turnaround. They are beautifully packaged and perfect."

P.B.
"Thank you so much! It was lovely meeting you at the markets today, you have a gorgeous collection and I adore my gold whale tail necklace. Already browsing through more of your collection online... so so beautiful."

S.W.
"I just received my package and I love them all! These bangles are so incredibly beautiful. I haven't taken them off since you told me to just wear them. I'm actually in love with them!".

Ash