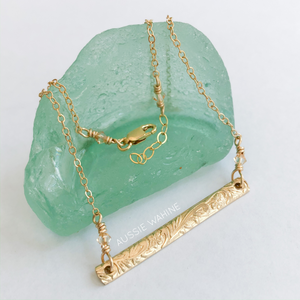 Hawaiian Heirloom designs celebrate a tradition that traces back to Hawaii's Queen Lili'uokalani. A personalised gold bracelet was presented to Hawaii's Princess Lili'uokalani by England's Queen Victoria in 1887, in celebration of her Golden Jubilee commemorating her fifty-year reign. The bracelet became one of Lili'uokalani's most treasured pieces. 
The bracelet created a stir among Hawaii's Ali'i (Royalty). The beautiful English carvings were reproduced incorporating various Island designs. Over time, flowers, leaves and other significant designs of Hawaiian origin have found their way into Hawaiian Heirloom Jewellery.
Adorned with tropical flowers, ferns, leaves and scrollwork, Hawaiian Heirloom jewellery has flourished to become a cherished Island keepsake.
This patterned Hawaiian Heirloom style bar necklace is made of a 14kt Gold Fill patterned bar which is approx. 1.25" or 31.75mm long. 
The Heirloom Bar hangs on a flat cable chain that can be adjusted from 16" (40cm) to 18" (45cm) long using the extension chain attached. There are four tiny Swarovski Crystals incorporated in this design.